Telegram Groups & Channels
The following will give a short overview about all the Telegram groups we have, Tipbot How-To further below:
Official News Channel (english)
https://t.me/bananocurrency
Official Group (english)
https://t.me/banano_official
Official Groups (local)
Spanish | Portugues | Vietnamese | Indonesian
Russian | Chinese | Filipino | Italian | French
German | Polish | Japanese | Korean
Turkish | Romanian | Indian | Latvian
Hungarian | Arabic | Croatian
Dutch | Greek | Hebrew
Other groups using the BANANO TipBot
Banano Exchange (Spanish group helping people to trade BANANO)
Unofficial DAG Discussion Group: BlockLettuce
UPDATE: The original BANANO Tipbot created by bbedward, @BANANOTipBot will retire soon and let his master focus on other projects. The creator of the NANO Tipbot, @mitche50, has now created a new BANANO Tipbot for both Telegram and Twitter, which can be directly found at Telegram as @BANANOTipperBot. and @bananotipperbot at Twitter.


IMPORTANT: The original Telegram @BANANOTipBot will be still available for withdrawals for some time, but it will be removed from our groups within the next days and replaced by @BANANOTipperBot.
Please make sure to withdraw all BANANO from @BANANOTipBot to @BANANOTipperBot.
See brief instructions how to use the new Telegram Tipbot below. More information and support on ba.nanotipbot.com:
How to use the BANANO Telegram TipBot:
Two important things first:
Please don't beg in our Telegram groups in any form or you might get kicked. If you show interest and contribute to the discussion someone most likely will send you some BANANO. If you are new, say so and speak up so we can help you. Any questions are welcome!
Don't store BANANO long-term on your BANANOTipBot account, only keep there what you like to use for tipping others. Make sure to store your BANANO in wallet you control, like Kalium or BananoVault. Help getting started at banano.how.
Step 1: Open the chat with @BANANOTipperBot and click "Start" at the bottom. Alternatively type "/start". You'll then see information and help for using the bot as below: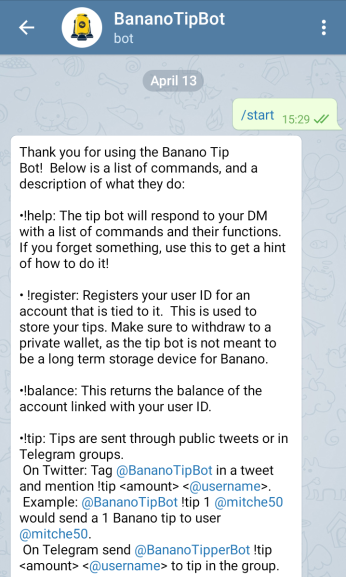 Step 2: Register with the bot by typing "/register". It will provide your BANANOTipBot address: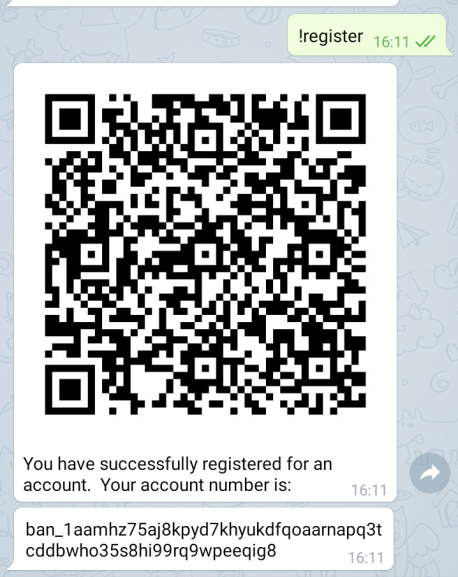 Step 3: Check your balance with ".balance"

Step 4: Now deposit some BANANO to your BANANOTipBot address and check the balance again, it'll show up after few seconds:

Step 7: You're all set, now just tip others as shown below or receive tips 🙂 Enjoy!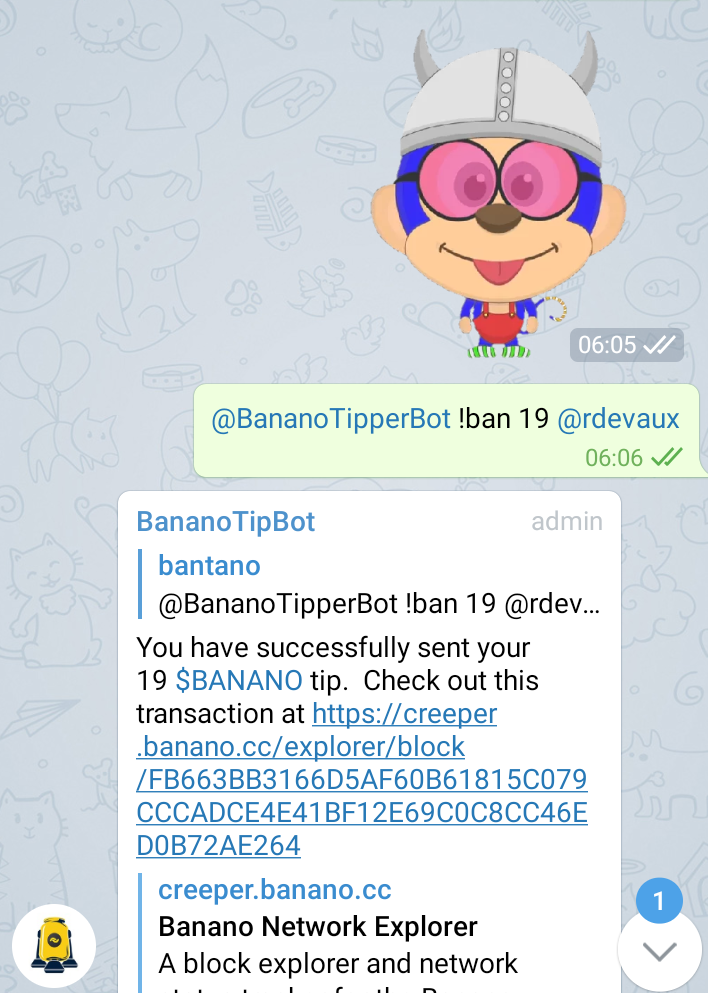 Related links:
More help and info about our Twitter Tipbot here: https://ba.nanotipbot.com/
Most recent tips
Tipper ranking
Credits:
Last but not least:
A YUGE 'thank you' goes to Andrew Mitchell for creating @BANANOTipperBot <3
Never forgotten: Credits to our coding god @bbedward for creating our original Telegram TipBot <3 (Github).