Telegram Groups & Channels
The following will give a short overview about all the Telegram groups we have, Tipbot How-To further below:
Official News Channel (english)
https://t.me/bananocurrency
Official Group (english)
https://t.me/banano_official
Official Groups (local)
Spanish | Portugues | Vietnamese | Indonesian | Russian | Chinese
Italian | French | German | Polish | Japanese | Korean | Turkish
Other groups
Banano Exchange (Spanish group helping people to trade BANANO)
NOTE: The Telegram Tipbot we introduced on February 18th, 2019 had issues. Please make sure to withdraw your BANANO from the bot @banano_tipbot. We already are testing a new version of it, called @BANANOTipBot, which is currently tested in the Spanish, German and Chinese groups before full release. See brief instructions how to use below:
How to use the BANANO Telegram TipBot:
Two important things first:
Please don't beg in our Telegram groups in any form or you might get kicked. If you show interest and contribute to the discussion someone most likely will send you some BANANO. If you are new, say so and speak up so we can help you. Any questions are welcome!
Don't store BANANO long-term on your BANANOTipBot account, only keep there what you like to use for tipping others. Make sure to store your BANANO in wallet you control, like Kalium or BananoVault. Help getting started at banano.how.
Step 1: Make sure you have set a username at Telegram. To check this, go to settings: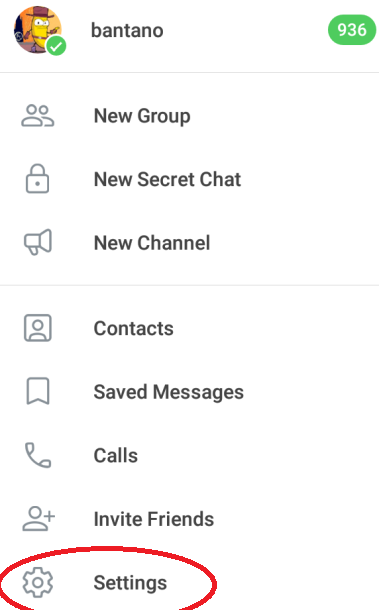 Then check if there is a username set, starting with @ as shown below. Otherwise, choose one.

Step 2: Open the chat with @BANANOTipBot and click "Start" at the bottom. Alternatively type "/start".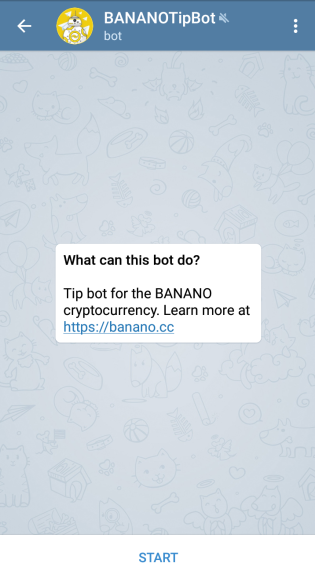 Step 3: You'll then see information and help for using the bot as below: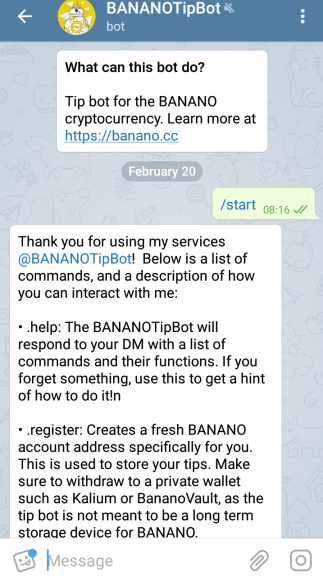 Step 4: Register with the bot by typing ".register". It will provide your BANANOTipBot address: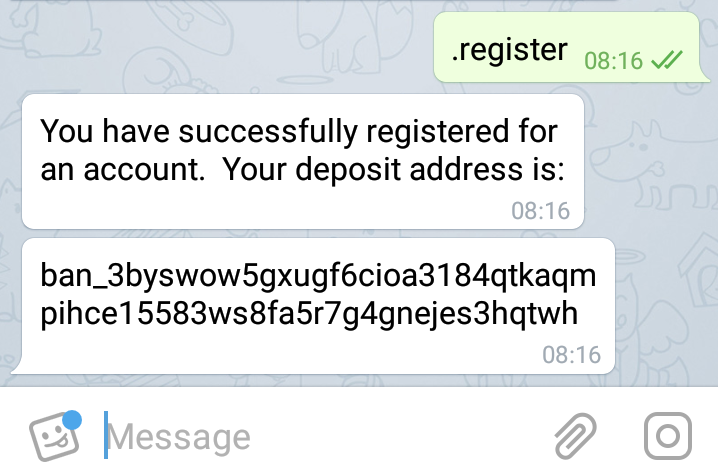 Step 5: Check your balance with ".balance"

Step 6: Now deposit some BANANO to your BANANOTipBot address and check the balance again, it'll show up after few seconds:

Step 7: You're all set, now just tip others as shown below or receive tips 🙂 Enjoy!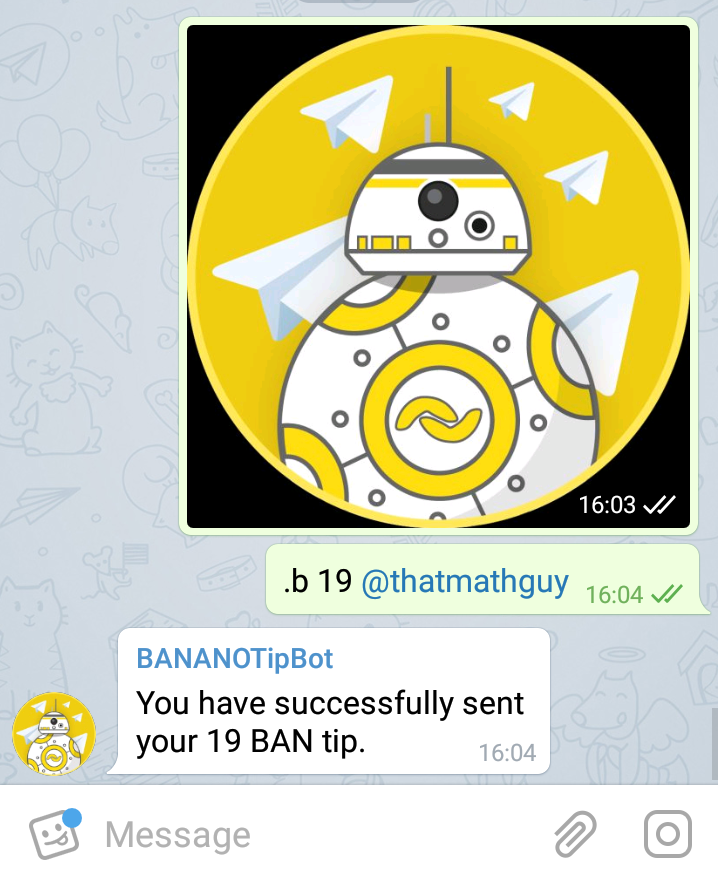 Credits:
Last but not least: A YUGE 'thank you' goes to our coding god @bbedward for creating this wonderful TipBot <3 (more details at Github).